I'm in love.
March 27, 2009
I was thrilled to inherit a bunch of antique furniture from my grandparents.  I loved all the memories from the pieces, but I also really love antiques with character. 
These pieces of furnture have good bones, but need some serious TLC.  The wood pieces are in great condition still, but anything with fabric desparately needs reupholstered.  It's been my long term project to get these pieces up to snuff, and now that my formal living room is being used as a formal living room (and not just a storage/holding place), it's time to fan that fire under my hiney.  I want this room to have the antique charm, but not be overly stuffy.  I want it to be a room to hang out in, read in (it gets GREAT light!), do little projects in, and so on.  Basically, I plan to use it more than for just the major holidays. 
My idea with the furniture has been to reupholster it with material that has more of a modern edge to it to help soften the antiqueness of it.  I was looking around the Anthropologie site (which is super dangerous for me – if I had unlimited income, I may have to own one of everything they make) and came across this sofa.  Although the material may be a bit more flashy than I would usually go for, I am in love with this piece.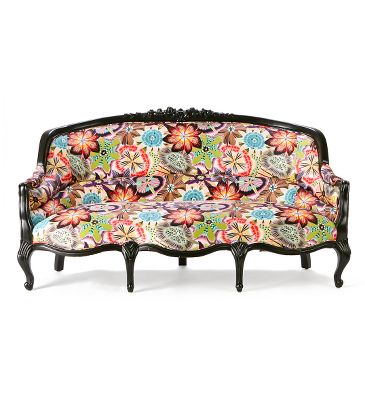 *  Sorry for all the white space, that's just how the photo was and I'm not taking the time to crop it.
The sofa I have to reupholster is very similar in style.  I also have 2 other chairs that are in desperate need of new fabric.  I can feel my butt start to warm as I keep admiring this sofa.
Anyone have any great sources for fabulous upholstry fabric that won't break the bank?
Also, I am digging these aprons.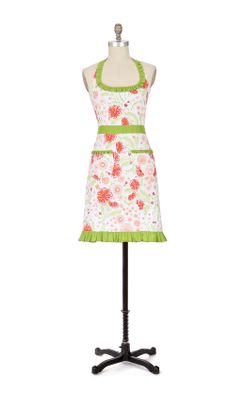 I'm a big fan of the 50's/60's aprons.  They're just so June Cleaver – they make me feel all warm and fuzzy inside.  I also have a huge urge to make meatloaf, homemade bread, and have a fresh batch of chocolate chip cookies on the table.